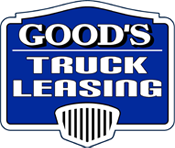 Good's Truck Leasing provides commercial truck fleets with a comprehensive maintenance and leasing solution. Our program provides a predictable costing structure that allows you to focus on your core business while we manage your fleet.
The foundation of a successful fleet starts with ensuring your trucks are built with the appropriate specifications for the job. We work with you to understand the application of each vehicle in order to build a truck that meets your requirements. We have developed relationships with all the major OEMS to ensure you are getting the most competitive solution available.
Many companies understand the benefits of operating a private fleet and are looking for ways to better control and budget expenses. Ever-changing vehicle technologies and emission requirements are making it increasingly difficult to forecast the running cost, useful life and residual values of commercial trucks. More than ever, fleets are looking for an alternative to vehicle ownership and a maintenance solution that will keep up with the latest vehicle technologies.
Our Full-Service Lease program is structured to preserve capital and provide predictable expenses throughout the lease. We will handle any and all maintenance with the goal of maximizing the uptime, productivity and safe operation of your fleet. Our technicians are trained in the latest vehicle technologies to ensure a quick turnaround on repairs and that we 'fix it right the first time'. Any residual risk is eliminated; simply turn in the truck at the end of the lease and we are responsible for its disposal.
We can also provide a market evaluation of your current fleet and assist in disposing of your assets for top dollar. Give us a call if you are in the market for a new or replacement vehicle. We are confident we can offer a solution that meets your needs.
​